February 11, 2020 at Alamo Drafthouse Cinema Richardson
Interview 7:00 pm
For this AIRTime we will interview Elizabeth Ellis, featured storyteller participating in the AIR Storytelling Festival.
As a storyteller, Elizabeth Ellis doesn't mince words. Filled with hilarious and poignant honesty, her stories deliver down-home wisdom, southern style. Hers is a voice that finds the heart and the funny bone, riveting audiences of every age wherever she goes.
Elizabeth Ellis grew up in the Appalachian Mountains and was a children's librarian at the Dallas Public Library before becoming a professional storyteller. The "Divine Miss E" is a versatile and riveting teller of Appalachian and Texas tales and stories of heroic American women, though her personal stories are arguably her best. She is a repeated favorite at the National Storytelling Festival. A mother and grandmother, she makes her home in Dallas, Texas. Her website is www.elizabethellis.com.
This project is funded in part by the City of Richardson through the City of Richardson Cultural Arts Commission.
Movie 7:45 pm
Fried Green Tomatoes (1991)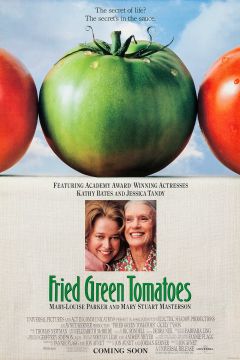 Based on Fannie Flagg's novel FRIED GREEN TOMATOES AT THE WHISTLE STOP CAFE, director Jon Avnet's film moves between two relationships taking place more than half a century apart. In the modern-day storyline, unhappy Alabama housewife Evelyn Couch (Bates) is surprised when she befriends and bonds with elderly nursing home resident Ninny Threadgoode (Tandy), who fascinates Evelyn with her tales of feisty, tomboyish Idgie Threadgoode (Masterson) and her deep friendship with Ruth Jamison (Parker) during the 1920s and 1930s. The Whistle Stop Cafe, which Idgie and Ruth operated, was an important place in their small town and, in addition to dishing up delectable barbecue, the Cafe's employees cooked up a few major scandals as well.
Event Details
Tuesday, February 11, 2020
7:00 pm – interview with Elizabeth Ellis, storyteller
7:45 pm – movie screening: Fried Green Tomatoes (1991)
Alamo Drafthouse Cinema – Richardson
100 S. Central Expressway
Richardson, TX 75080
972-534-2120
Tickets are $5, but include a $5 food/beverage voucher. Reserve your seat in advance or purchase the evening of the event.
What is AIRTime?
AIRTime is an artist interview series formerly held live on stage at the Alamo Drafthouse in Richardson, Texas. In Season 10 we shifted to provide a virtual experience via Facebook Live.
Not able to tune in live with us? A recording of the interview will be made available shortly after the event. As always, each and every AIRTime interview can be listened to at your leisure as a podcast on Apple Podcasts or in your favorite podcast player.